This is the fifth installment in a series of posts on how to pack various adventures in the Tetons. This week we dive into the world of truck camping! If you haven't read our previous posts about general clothing to bring along on your trip to the Tetons: find it here.
Glamping at its finest
Maybe sleeping on the ground isn't your cup of tea, regardless of whether it's in the backcountry or a fully-amenitized campground. One of our truck campers could be the mobile Airbnb of your dreams!
Currently, we have 2 slide out campers (the Granby and the Hawk) and one rooftop tent camper on a Toyota Tundra. The Tundra also has a built in sleeping platform in it's bed to facilitate larger groups or just folks who might be nervous about heights. If you're reading this in 2021 or beyond, be on the lookout for new campers and trucks!
All our truck campers come fully stocked with everything you need to cook beautiful meals as if you were at home in your own kitchen. With the exception of the Tundra, which comes with a cooler, there's even a mini fridge to keep your perishables safe! A quick trip to one of the grocery stores in the town of Jackson will outfit you for all the food and snacks you need for your adventures!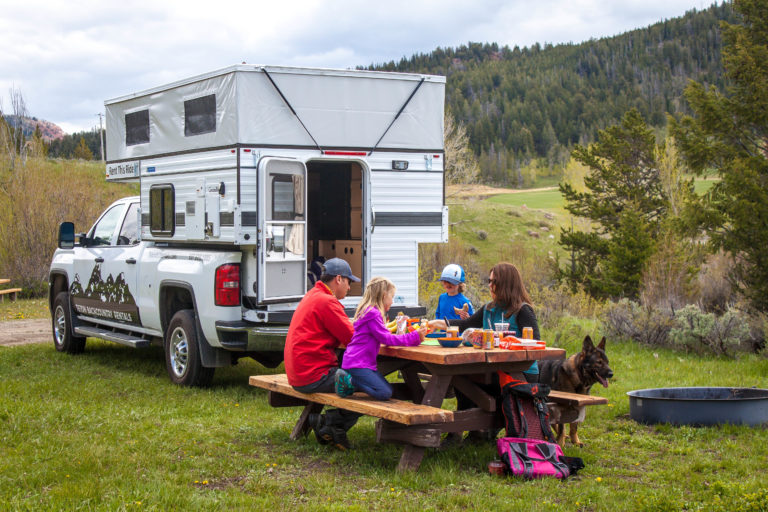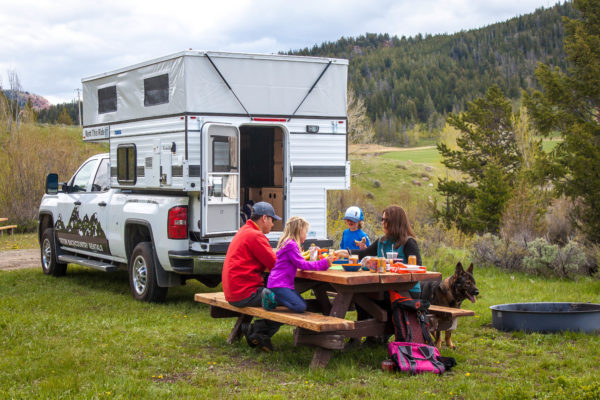 Sleeping in Style
Both the Granby and the Hawk can accommodate sleeping arrangements for several adults and children. They both have full-sized beds that can be expanded to queen-sized if desired. Each of the dining tables in the Granby and Hawk can be converted into a smaller, about twin-sized bed. We provide enough bedding for each bed and can even arrange for extra blankets or sleeping bags. 
But What Should I Bring?
We know we've included this in our "packing for success" series and then didn't mention packing once, but one of the beautiful things about our truck campers is that you may not really need to pack much more than your clothes! We do our best to provide you with anything you might need while adventuring in one of our truck campers. But don't forget some extra layers to stay warm on these chilly October nights. One of our favorite things to add this time of year (and when weight isn't a factor) is a sturdy pair of slippers or insulated camp shoes to wear around the campsite in the evenings. If you're thinking about hitting up one of the many hot springs dotted all over Yellowstone, don't forget to pack your swimsuit and trunks. 
A great addition to a truck camping adventure would be some optics to help you hone in on some of our wildlife that might be further away. A spotting scope is an excellent choice here, especially if you're not planning on straying too far from established roadways. We also offer lighter weight binoculars for rent in case traipsing through some sagebrush to spot wildlife sounds like your cup of tea.
If you're traveling with children, don't forget things to keep them occupied on the drive and around camp. There's no wifi in the wilderness, so old-fashioned coloring books might be a good way to go in lieu of an iPad. Swing by one of the visitor centers and enroll the kiddos in the junior ranger program; it'll give them hours of entertainment as they learn about what it takes to be a national park ranger and how to recognize the wildlife that calls the Greater Yellowstone Ecosystem home.
Don't let a dead phone or camera prevent you from capturing the memories and gorgeous scenery. Rest easy knowing that our campers have USB and standard electrical outlets to charge all your gadgets, just remember to bring your cables and chargers! If you need more, our car camping packlist will work just as well for truck campers.
Where to Next?
There are many different camping opportunities with varying amentines in the area. You can find more information to the campgrounds within both Grand Teton and Yellowstone National Parks over here. Dispersed camping is also available on US Forest Service and Bureau of Land Management land, but keep in mind those areas will have much fewer to no amenities.