This is the second in a series of posts on how to pack various adventures in the Tetons. Today we are looking at how to pack for your overnight trekking adventures in Western Wyoming. If you haven't read our previous post about clothing to bring along on your trip to the Tetons: find it here
There are few things in life more magical and rewarding than trekking through the mountains for a few days away from the hustle and bustle of life in the 21st century. Backpacking opportunities in and around the Jackson Hole area abound: you could test your mettle on the Teton Crest Trail, enjoy a few scenic nights on Leigh Lake or at the base of Mt. Woodring; a short drive away you'll find trailheads leading into the Wind River Mountains as well as the Gros Ventre Mountains. And that's not even taking into account the endless trail systems of Yellowstone National Park!
The Backpack
To build on the information in our previous post, there with a few key specifics for backpacking. You'll need to begin with a good pack. Opinions vary on the benefits of internal vs. external frame packs; we have internal frame packs for rent and are happy to help you find the best one that will fit your needs. The two most important aspects will be carrying capacity and fit. Depending on the length of your trip, you could want a much larger or smaller pack–the longer the trip, likely the bigger the pack. When it comes to fit, the majority of the weight of your full pack should sit on your hip bones when the waist belt is securely fashioned. Your shoulder straps shouldn't be digging in or carrying most of the load. 
When it comes to packing your pack, you may find you are able to capitalize on the capacity of your pack by removing things from their stuff sacks and treating your pack as one GIANT stuff sack. (Just remember not to lose the stuff sacks for your gear if it's something you've rented from us!)
Sleeping at Night [icon name="bed" class="" unprefixed_class=""]
When considering tent size on a backpacking trip, keep in mind that less might be more! Sure, we all want plenty of space to stretch out at the end of a long  day on the trail, but that 4 person tent you've got your eye on will be significantly heavier than the 2 person one. Temperatures can drop dramatically in the Tetons any time of the year, a smaller tent will help keep you warmer with you and your buddy snuggled in together.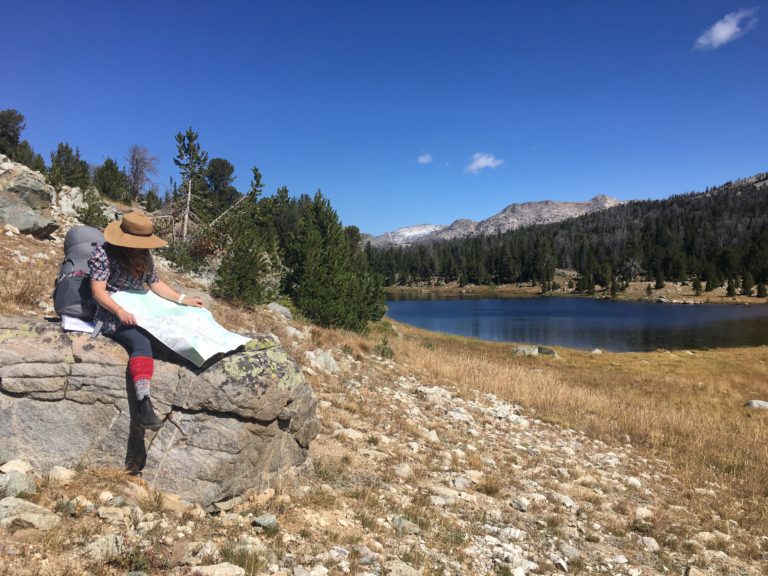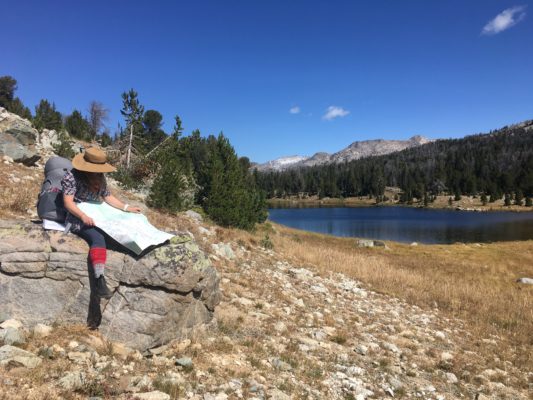 Good Eats and Drinks
Trekking up and down trails and across divides burns A LOT of calories. Food is important on backpacking trips, but as always: weight rules the day. We offer a variety of lightweight, dehydrated meals for purchase in our shop that you can cook simply by adding hot water. Hot water which you've boiled using one of our rental stoves & cooksets! 
The question we get most often about stoves is "how much fuel do I need?" The amount of fuel you burn each time you light your stove depends on many variables: the wind and outside temperature, your altitude, and the duration you're planning to burn. Are you cooking a full three course camp breakfast for your buddies? You'll probably need a lot more fuel. Are you just boiling water for tea or to rehydrate a pre-packaged meal? Probably a little less fuel. 
Let's talk water! A beautiful burbling mountain stream might seem like an excellent place to dip your water bottle in for a fill up, but if you don't know exactly where that water is coming from you could be in for some future bad times. You should always filter or use iodine tablets in water collected from streams or other natural sources. If you can't filter or treat your water with iodine, make sure you boil it for a few minutes before drinking it. 
Other Considerations
Trekking poles could come in handy to help stabilize yourself as you travel over challenging terrain with a heavy load strapped to your back. When it comes to sizing and adjusting rental poles from us, please make sure the adjustable sections of the pole are equal. To size, hold the pole grip side down and place your hand just under the basket, your elbow should form a 90 degree angle; if that sounds confusing just ask one of our employees in the shop to help!
If the Teton Crest Trail is your goal, be sure to check in with the rangers for the conditions of Paintbrush Divide. This north-facing traverse can hold significant amounts of snow late into the summer. They may recommend traveling it with ice axes, crampons, or both! We can help you out with providing this gear with rental, but since our employees aren't licensed guides, we can't actually teach you how to use them. Below is a link to a video demonstrating a self-arrest using an ice axe. 
And last but not least, don't forget your bear spray and bear-resistant food storage!