This is the third in a series of posts on how to pack various adventures in the Tetons. Today we are looking at how to pack for a night camping by your vehicle. If you haven't read our previous post about clothing to bring along on your trip to the Tetons: find it here
If trekking around the mountains weighed down by a huge pack sounds like your own personal hell, car camping might be more your speed. No worries, we've got your back in that instance too! 
Find Your Spot
There are many different camping opportunities with varying amenities in the area. We have a handy page about how to camp at the campgrounds WITHIN both Grand Teton and Yellowstone National Parks. Dispersed camping is also available on US Forest Service and Bureau of Land Management land, but keep in mind those areas will have much fewer to no amenities. 
Once you've found your ideal campsite or made your reservations, there's a couple pieces of gear you might be searching for. The most important would be your tent: some of the campsites listed above have specific requirements on the size of tent you can place on the site. We offer a 2, 3, 4, and 5 person tents up to 90″ x 120″ (8 feet by 10 feet).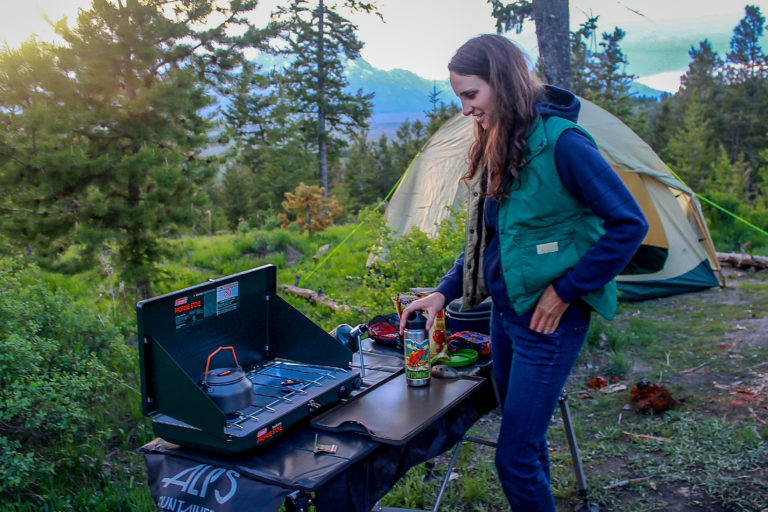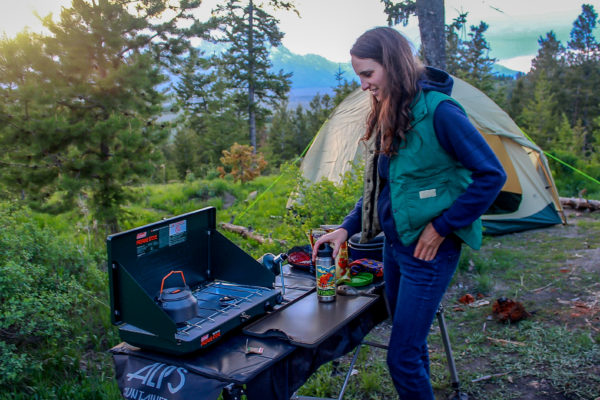 Sleep in Comfort
Sleeping on bare ground is uncomfortable, and something not many people might be used to. An inflatable sleeping pad will go a long way toward making your camping nights more comfortable. It gives you a softer surface to sleep on while also providing extra insulation below you. Extra insulation = extra warmth!
On top of that sleeping pad, you'll need a sleeping bag. Our most common and popular bags are our 20 degree bags. We do have several 0 degree bags if you're camping during the Spring or Fall when temperatures can drop dramatically overnight. All of our sleeping bags come with a washable sleeping bag liner. They help us protect you and our bags and they are laundered after every use. An additional benefit of the sleeping bag liners is that they create a little extra warmth too!
Last But Not Least
There's nothing like a sizzling pan of bacon and a hot cup of coffee in the morning while you shake the dew off your tent fly–to facilitate that we have two burner propane stoves for rent, and to go along with our stoves we have cooksets available, we just ask that you only use our cooksets to cook over a propane stove and not over a charcoal grill or live fire. This damages our cooksets and makes them unrentable for others. 
Camp chairs and a camp table will help make your campsite feel more like home away from home. As will a lantern or supplemental tea kettle for coffee in the morning and tea in the evenings!