Determine your size according to the chart below. Boot is sized in Mondo.
Men / Unisex (US)
Women (US)
Europe
UK
Mondopoint
(Comfort Fit)
Mondopoint
(Performance Fit)
4.5
5.5
3.5
3.5
22.5
21.5
5
6
36.5
4
23
22
5.5
6.5
37
4.5
23.5
22.5
6
7
38
5
24
23
6.5
7.5
28.5
5.5
24.5
23.5
7
8
39
6
25
24
7.5
8.5
40
6.5
25.5
24.5
8
9
40.5
7
26
25
8.5
9.5
41
7.5
26.5
25.5
9
10
42
8
27
26
9.5
10.5
42.5
8.5
27.5
26.5
10
11
43
9
28
27
10.5
11.5
44
9.5
28.5
27.5
11
12
44.5
10
29
28
11.5
–
45
10.5
29.5
28.5
12
–
45.6
11
30
29
Dynafit Radical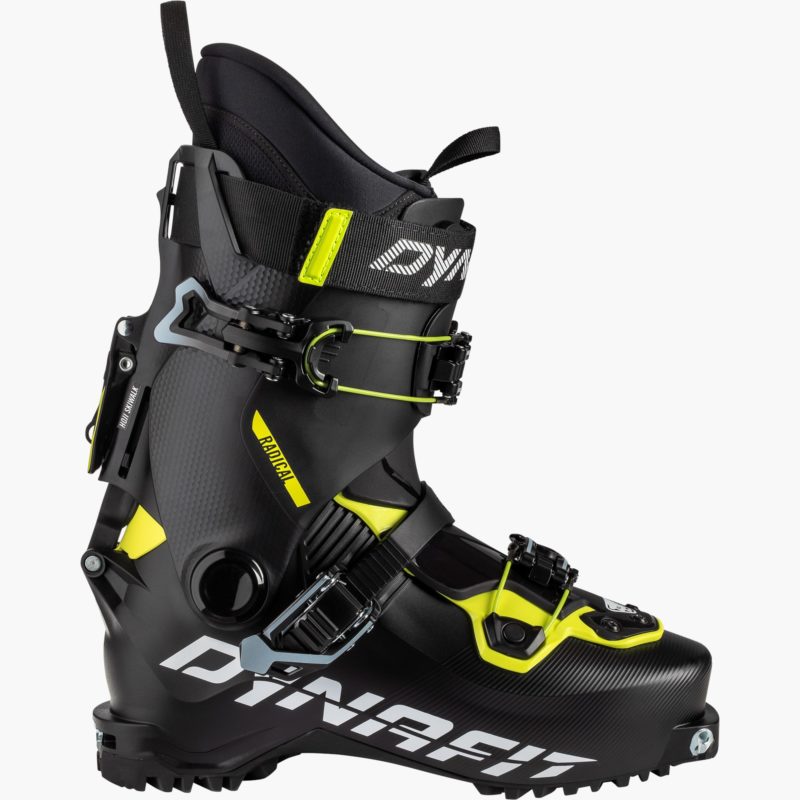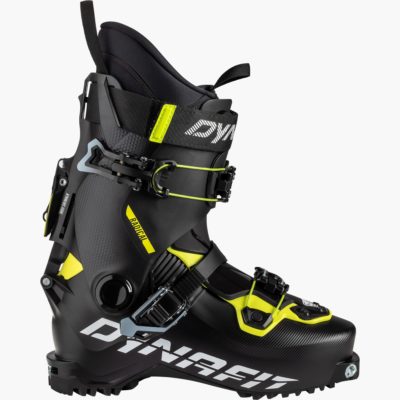 The Radical ski touring boot for men features the revolutionary Hoji Single Lock System and is an uncompromising all-rounder both uphill and down. The boot – modeled after the Radical Pro model – combines the seemingly contradictory worlds of freedom of movement on the ascent and rigidity for the downhill. In walk mode, the cuff and shell are separated from each other to be able to climb efficiently with a 60-degree cuff rotation for unrestricted, resistance-free mobility. Its low weight of 1,520 g (size 26.5) and a flexible tongue construction made of two different high-tech synthetics ensures an energy-saving, natural walking movement even on steep terrain. The new thermo-moldable boot liner (optional) offers stability and comfort with a perfect fit right out of the box. With these on, you will be ready to tackle long tours with many meters of climbing. Once at the summit, the Radical boot becomes a sturdy downhiller with top power transfer, thanks to the one-hand handling for the patented Hoji Single Lock System. Flip the lever of the ski-walk mechanism and the entire system is tensioned, setting the boot in a forward lean angle of 11 degrees. Cuff and shell combine to create a positively locked unit that transforms the revolutionary system into one unit totally without play. A unique feature on the market for precision and efficient skiing of the highest level that was normally seen only in purebred Alpine ski boots. In contrast to the Radical Pro, the Radical's ski-walk mechanism is not connected with the micro-adjustable buckles and the strap. Rather, these must be secured separately for the descent. They secure the foot safely and firmly, lending a flex index of 110 even on challenging downhill terrain for all-around impressive downhill performance on the skis. The new Radical is compatible with all pin, hybrid and alpine bindings. It is made of dynamic polyurethane and made entirely in Italy.  – Dynafit Website
Dynafit Radical Women's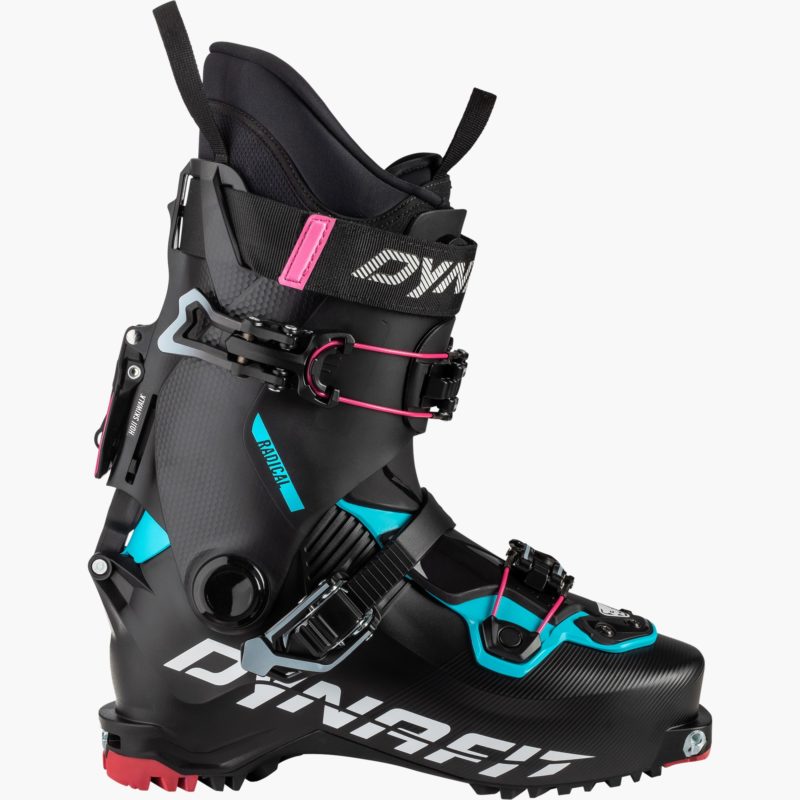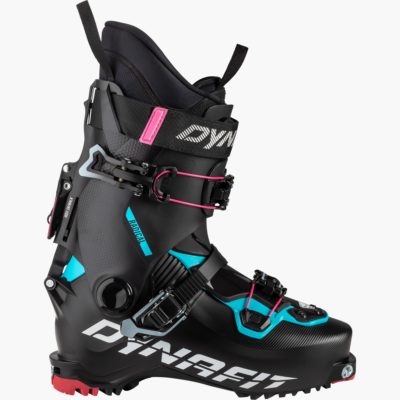 The Radical ski touring boot for women is a versatile touring boot for the classic ski touring enthusiast. Comfort and easy handling distinguish the boot. With 1,630 grams, this boot sits in the mid-weight class and is suitable both for novices as well as experienced ski tourers. Four buckles guarantee good support on the descent. The patented Motion Lock Ski/Walk Mechanism can be adjusted very easily and secured in one of two positions: 15 or 21 degrees of forward lean. The Ultra Lock Straps at the front of the upper ensure quick hold and can be readjusted with one hand. The boot liner of the DYNAFIT Radical is just as thickly lined and was developed with an eye on great comfort. The POMOCO rubber blend in the outsole doesn't change when temperatures do and offers consistent performance when it comes to grip and stance while walking when not in the binding. This boot was produced in Europe. – Dynafit Website
Dynafit TLT Speedfit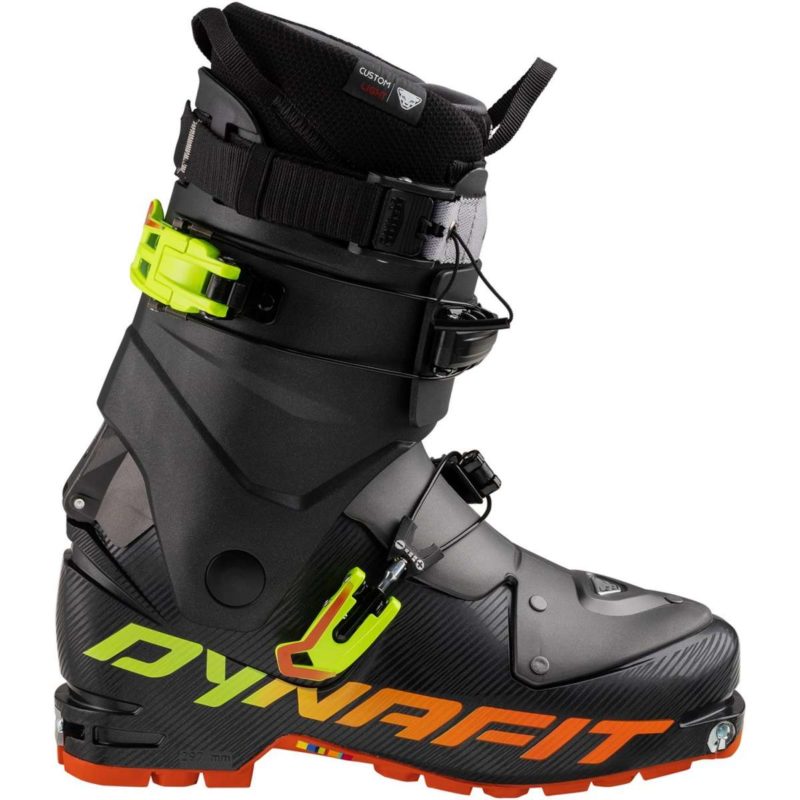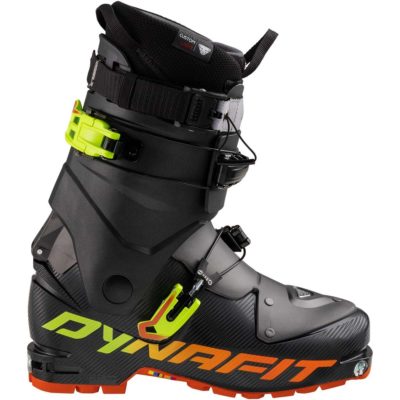 The Speedfit is the perfect choice for the ambitious ski touring enthusiast for whom speed is the first priority. To incorporate more speed, plus comfort and safety on a ski tour ascent, the DYNAFIT design team has developed the new Ultra Lock 4.0 closure system. Its handling is simple and intuitive, and thus saves time when transitioning from uphill to downhill mode. The upper buckle has two functions: It operates as a lever for the ski-walk mechanism and also opens the cuff. Both buckles are micro-adjustable. They enable perfect fit for every ski touring enthusiast. The system is also easy to operate with gloves, and wins points for its reliability and a solid workmanship that still means no unnecessary weight – you get speed without compromise. Thanks to a cuff rotation of 60 degrees, this boot enables a natural, energy-saving walking gait even on very steep terrain. Its carbon fiber cuff lends the Carbonio TLT8 rigidity and unparalleled downhill performance. A shortened toe, the "Speed Nose," reduces weight by 15 percent. Plus, it enables a 12-percent more efficient roll-through of the foot with a pivot point setback by 4 mm. On the descent, the ski touring boot can be locked into a forward lean of 15 or 18 degrees. This offers a dynamic position for speedy downhills. For optimum power transfer, the fit of the TLT8 Carbonio has been redesigned so the boot offers a narrow, athletic fit with a last width of 103 mm. The TLT8 Carbonio is especially well-suited for traverses or climbs on steep or icy terrain and is ideal for use with the new, ultralight Cramp-In crampons, developed in partnership with SALEWA. The CUSTOM LIGHT liners are generally thinner with less volume and therefore more oriented toward uphill performance where lightweight and good walkability are the key focus.
Dynafit Hoji Free 110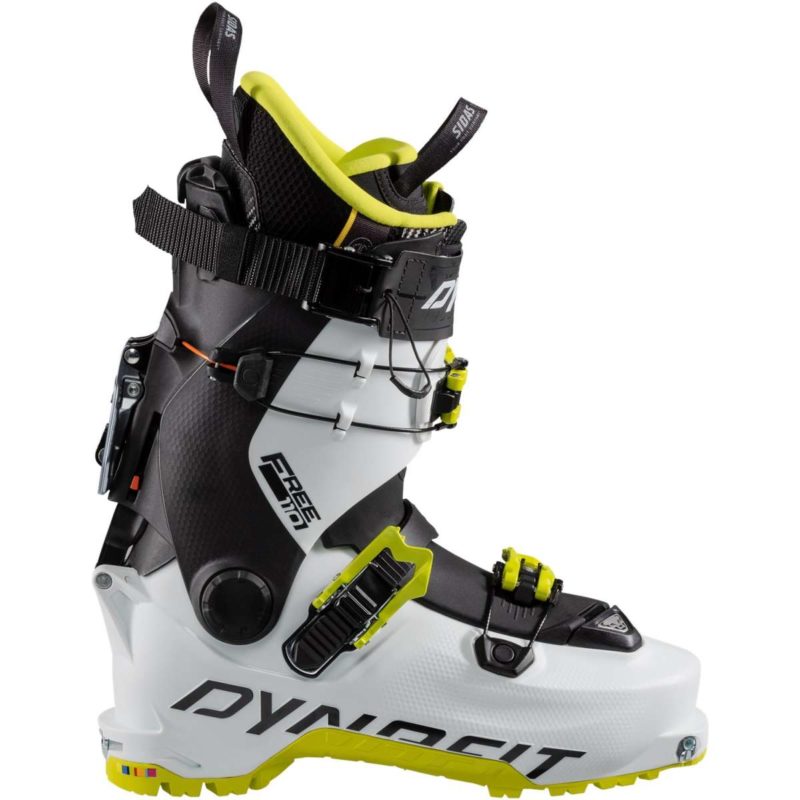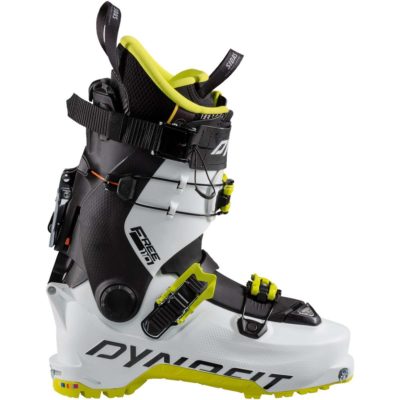 With its increased rigidity, a unique glass fiber-reinforced Grilamid material, and a progressive flex of 110, the Hoji Free possesses all of the characteristics to deliver the best power transfer and top downhill performance. With a last width of 102 mm, three micro-adjustable buckles, and the Ultra Lock Strap, the foot sits ideally positioned. In downhill mode, the Hoji Free locks out at a forward lean of 15 degrees. Removing the additional back spoiler changes the forward lean to 11 degrees. On the ascent, FREE tourers also get extra benefits: The V-shaped tongue and a cuff rotation of 55 degrees mean maximum freedom of movement. With its light weight of 1,550 grams, taking on a few extra meters of vertical won't be an issue for the Hoji Free since you'll still have enough strength left to enjoy a well-earned descent. One special feature of the Hoji Free is the new thermo-moldable Hoji Free Liner by Sidas. This liner can be custom-molded to fit your foot and offers the best possible comfort during walking as well as on the downhill. Thanks to the toe lug, the ski touring boot is compatible with fully automatic crampons. Ski hard & walk easy – one move to switch.
Tecnica Zero G Guide Pro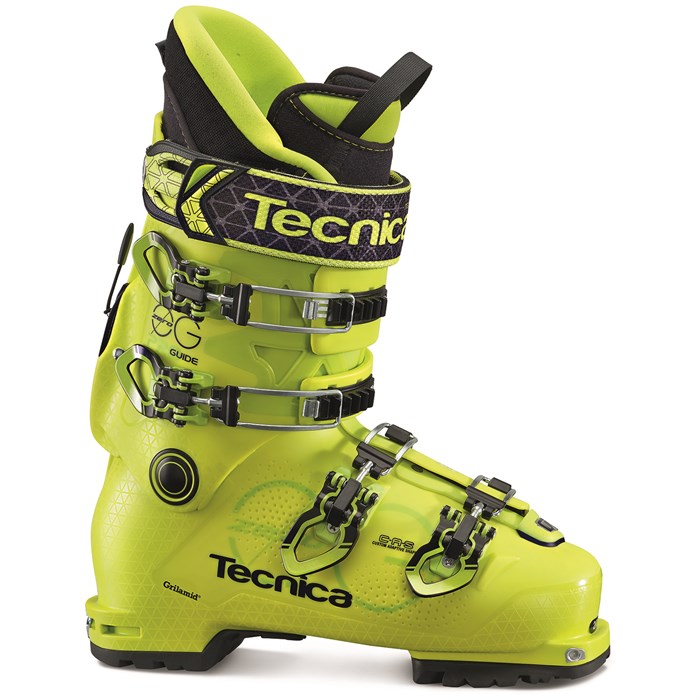 The Tecnica Zero G Guide Pro Alpine Touring Ski Boots are a great choice for backcountry explorers who don't need the stiffest, baddest boot around, but still want some of the best uphill capability in the biz. The progressive 110 flex is smooth and forgiving with enough under the hood to drive bigger skis, and their light weight combined with an impressive 55˚ range of movement keeps things plenty manageable on the skin track. There's a big old world just waiting to be skied; the Tecnica Zero G Guide Pro Alpine Touring Ski Boots help you get there in style.